Christmas Architecture – Strasbourg
---
We're feeling very festive here at Munday + Cramer. To celebrate, we are taking a look at the architecture of the capital of Christmas itself, Strasbourg in France. You may be wondering where Strasbourg gets this auspicious title, considering there are many other Christmassy towns and cities around the world. Well, it all dates back to 1570, where Strasbourg held the first ever Christmas market. Christkindelsmärik (Market of the Infant Jesus), as it was known, has expanded to attract over 2 million visitors every year. That's not bad, considering the town has a population of less than 300,000 people! 
The Christmas markets are spread across the city in 10 different locations, with the streets and buildings lined with Christmas lights and other festive decorations. It really feels like you've been shrank down to walk around one of those model Christmas villages. The architecture itself definitely accentuates this feeling. 
Due to Strasbourg's positioning upon the border of France and Germany, there are some great examples of architecture influenced by both cultures. It also survived much of the destruction wrought by WWII, unlike many other cities along the border, meaning it is a great historical landmark in terms of architecture. 
---
Strasbourg's Historical Architecture
What could be more Christmassy than a cathedral? Strasbourg Cathedral, otherwise known as Cathédrale Notre-Dame de Strasbourg, was originally built over 1000 years ago in the year 1015 (No, it's not that Notre-Dame). At the time, this was a Romanesque cathedral, before being redesigned in the 1200s.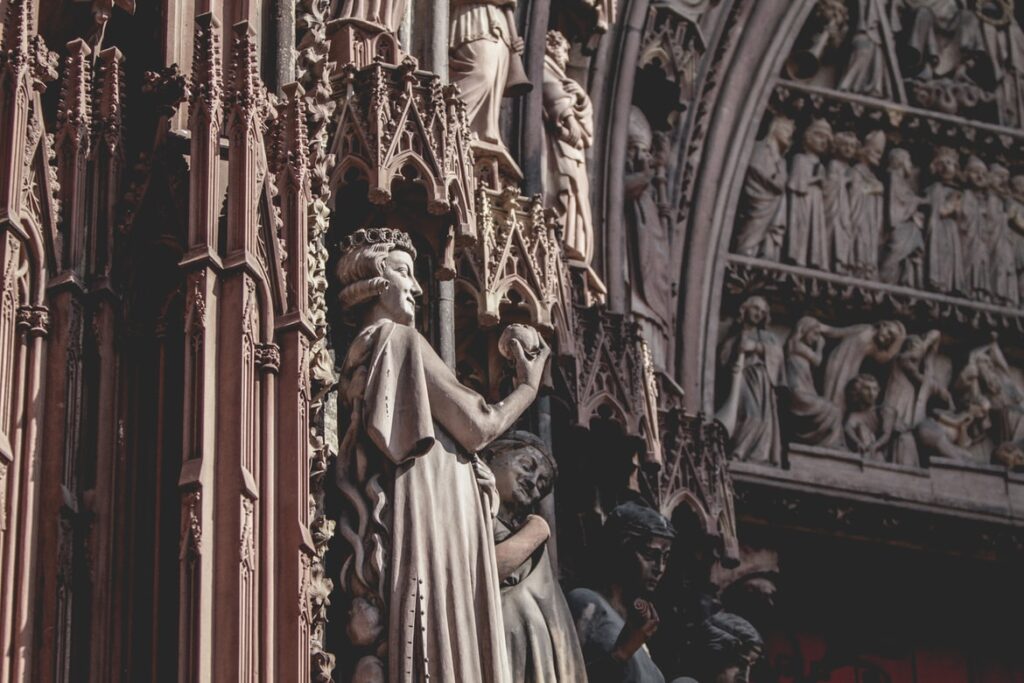 Although there is a considerable amount of Romanesque architecture displayed here, the cathedral is predominantly Rayonnant Gothic architecture, which saw a shift away from the classic High Gothic architecture. This means that instead of focussing on grandiose size, the aim was to unify space, refine decoration and add more, larger windows to let in more light. 
The cathedral of course features the iconic rose window as seen in many Gothic buildings, very similar in design to that seen in the Notre-Dame de Paris. This is also the era in which less importance was put onto the transept; the section that cuts across many Christian buildings to give them the "cross shape" from a top-down view. This is how the space was more unified, allowing for better communication and use of space. 
The interior design aspects of the church increased in intricacy and volume, with many of these motifs being reflected on the exterior of the building too. This gave the Rayonnant era of architecture a great cohesivity towards internal and external experience with much more visual splendour than previous iterations of Gothic architecture. 
Standing at 142 meters tall, the cathedral was the world's tallest building for over 200 years between 1647 and 1874 and it is currently the 6th tallest church in the world, which isn't bad for a building designed and built so long ago! 
---
Petite France
Petite France is a UNESCO World Heritage Site located on the central island of Strasbourg, the Grande Île. It is a medieval district featuring many beautiful timber-framed houses alongside canals and narrow streets. The area was initially designed based on trade that utilised the canals, such as fishers, tanners and millers. 
The buildings here tend to feature pointed gables, which historically contained narrow skylights, thought to be used to dry hides in the attics. Many of these skylights still exist today. These picturesque buildings, with exposed, crossed, timber beams are evocative of much of Germanic and north-eastern French architecture. This differs to half-timber buildings in the UK, which tend to feature a lot more vertical timber with close studding. In any case, Christmas-time in this area of Strasbourg is beautiful, with the lights twinkling in the river and canals. 
Architecturally, there is a lot to look at around this area. From Barrage Vauban, a dam with a panoramic terrace built along the top, to defensive structures, there is a lot of history and different influences that intertwine to create this protected area of Strasbourg. 
For example, during the 13th century, ramparts were built to block access to the river to increase the area's defence. These consisted of 3 bridges which each had a wooden roof and which supported 5 fortified towers across the river. Collectively, these are known as the Ponts Couverts, which means covered bridges. During the 18th century the wooden roofs were demolished and eventually the bridges were replaced by the stone bridges that can be seen to this day. Unfortunately, one of the towers was burned down in 1869, leaving just the 4 towers. Despite all of these changes and there being no covered bridges, the landmark is still known as Ponts Couverts to this day. 
---
Modern day architecture
Modern day architecture in Strasbourg is decidedly less Christmassy, although still very interesting to behold. One such example is the European Parliament building. Visually, this building looks like it could still be under construction, with the top floors only going partially around the circular building. This is no accident of course. This is used to represent the ongoing project of the European Union, always working towards something. Symbolism and deeper meaning in architecture can be found in buildings around the world and this is a great example of designing with purpose. 
Another interesting site in Strasbourg is yet another blend of multiple eras coming together to create a spectacle. Strasbourg's current Central Station was originally built in 1883 in the Neo-Renaissance style. This was a distinct building with an impressive façade, which could be viewed in full from the large lawns in front of the station. It was perfect for its time, but it wasn't designed for the amount of foot traffic that would hit it in the 2000s. 
In 2005 the French fast train, going from Paris to Munich was routed through Strasbourg. This means a lot more passengers were suddenly going to be using the station. To compensate for this, it was decided that the station needed to be enlarged. However, with such an impressive building already, it would have been a shame to change it. The solution was to create a glass dome to completely encase the station so you could still see the original façade inside. The dome has also been designed to be ecologically sustainable and comfortable. This rather unique and elegant solution was designed with history in mind, but being progressive and forward-thinking. We think they pulled it off! 
---
Contact Us
Everyone here at Munday + Cramer hopes you have a very merry Christmas and a prosperous New Year! 
If you'd like to find out more about our various services, including architectural design, then get in touch! Contact Munday + Cramer today on 01245 326 200 or by emailing us at info@mcessex.co.uk. Alternatively, you can fill out one of our online contact forms. 
---