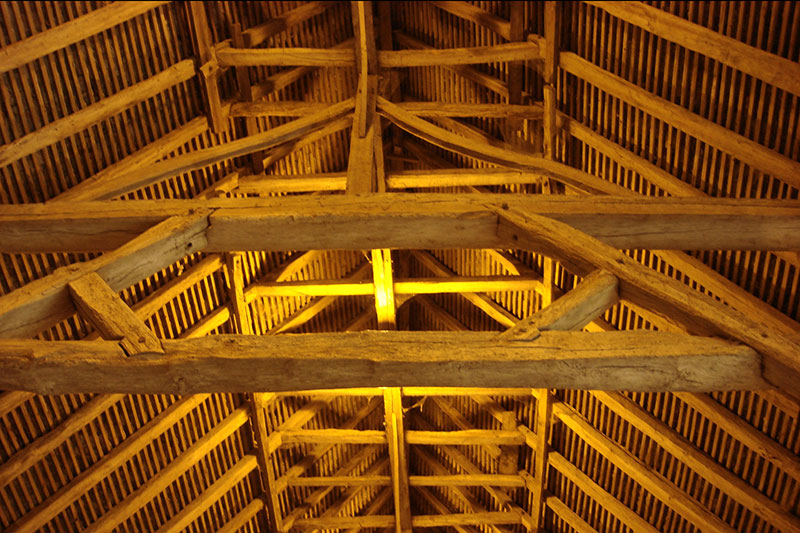 In line with Munday + Cramer's continued focus on ensuring that staff receive Continuing Professional Development (CPD); staff recently took part in a Heritage Building Workshop at the impressive Cressing Temple Barns, near Braintree, Essex. Alongside M+C's work within education, the practice sees a significant amount of work undertaken to either listed buildings or within conservation areas. This training was selected to further enhance the practice's skills and experience within the sector.
The day's course focused specifically on roofing works associated with heritage buildings; the range of historic roof coverings, the problems of decay methods of repair as well as the wider care and repair of heritage roof structures and timber frames.
Undertaken on a beautiful summer's day, M+C's surveyors were guided through many aspects of historic roofing, including:
Historical development of timber frames and roof structures
Causes of delay and failure of structure and materials
Structural repairs and selection of materials, covering;

Thatch
Shingles
Tiles
Slate
Lead flashing

Fire protection of structures
Rainwater disposal
Chimney pots
Roofscapes
The Cressing Temple Barns served as a fantastic backdrop to the course. The 13th Century, Grade 1 Listed barns, as well as a range of later buildings were used as working case studies, enabling M+C's surveyors to get up close and personal and understand the building pathology first hand.
"It was great to spend time refreshing our knowledge of the construction methods and surveying of historic buildings. We work with some lovely buildings in the course of our work, and continuing to grow our knowledge and experience in these fields can only serve to help our growing range of clients".

Lee Hatwell, Munday + Cramer
Munday + Cramer's Heritage Work
Munday + Cramer have long provided services for historic buildings across Essex, London and the surrounding Home Counties. Works range from domestic extensions and alterations (and associated administrative activities) through to major refurbishments of significant buildings including churches, schools and public buildings. Some of those schemes carried out include:
Ecclesiastical
St Francis of Assisi RC Church & Friary, Stratford, East London – Extensive structural investigation and subsequent repairs and refurbishment to a locally listed Franciscan Friary and Church in East London – £550,000
Sacred Heart of Jesus and Mary; St. Augustine's Priory – Stone window surround repairs, sash window repairs and replacement to a priory located in North Wales. £169,000
Our Lady Immaculate Roman Catholic Church – Provision of a condition survey and 5-year plan taking in to account the limitations of the Conservation Area
Domestic
Sandon Brook Manor, Chelmsford – External refurbishment of a prestigious Victorian Manor House. £36,000
Private Residential Client, North Fambridge – Two storey rear extension to a terraced cottage located within a conservation area. Obtained planning and conservation area consent. Extension constructed in timber frame and clad with traditional black timber weather-boarding and timber windows.
125 High Street, Maldon – Internal alterations to listed building, obtained listed building consent for alterations, including timber joinery details (1:20) and "conservation style" timber roof lantern.
Private Residential Client, Chelmsford – New porch to existing Grade 2 listed building, obtained planning and listed building consents, materials matched to existing "terracotta brick" and slate tiles, timber window details (1:5).
Private Residential Client, Little Baddow – Single storey extension to existing Listed Cottage. Obtained planning / listed building consent for timber frame extension with materials to match existing.
Private Residential Client, West Street, Coggeshall – Working with contractor, gained planning and conservation area consent to provide a single-storey kitchen extension as well as an extension to the existing porch to a property located within the conservation area, using materials to match existing, timber frame windows, large scale details.
Tiptree Church, Tiptree – Supporting the contractor with construction details to develop an existing permitted design gained by others.
Queen's Head Pub, Bradwell – Remodelling of the existing pub to convert in to a new dwelling, as well as the design and development of a series of new-build homes within the grounds. All located within a Conservation Area.
---