Barry Lawrence – Associate Director | Building Surveyor
---
Barry Lawrence BSc (Hons.)
Barry is a key member within the building surveying team. Barry bring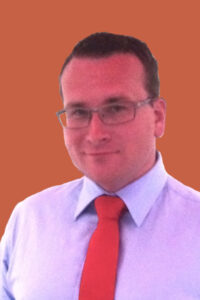 s extensive technical experience across a range of sectors and disciplines. As Associate Director, Barry takes a lead role in the direction of the surveying division, leading a team of surveyors delivering building surveying, professional services, procurement and project management.
Barry's career began by completing an HND in Architecture. Barry then joined Munday + Cramer as an Architectural Technician. A successful period in this role then lead Barry to move in to the surveying department and juggle a full-time role as a Trainee Building Surveyor with the completion of a Degree in Building Surveying with the University of Greenwich. Upon completion, Barry then completed a successful period before joining another local practice, before rejoining Munday + Cramer in 2013.
Barry's experience covers a wide range of work and sectors, bringing particular experience to the practice of commercial clients, development work and the education sector. Barry's previous role also saw him work extensively within the Essex County Council Framework.
Example Projects:
Gable Hall School, Corringham – New build construction of two new science laboratories funded via ACMF/CIF – £440,000
Chelmer Valley High School – Major acoustic upgrades to the Academy's Performing Arts Centre – £105,000
St. Anne's Catholic Primary School – Design and delivery of a courtyard in-fill scheme to provide a new school library and learning resources facility – £220,000
Britannia Village Primary School – Design, procurement and project management of a new build classbase within a challenging urban setting – £284,000
Chelmer Valley High School – Full refurbishment and re-modelling of the existing school kitchen including upgraded building services – £135,000
Thomas Willingale Primary School – A major courtyard infill to create additional meeting and break-out rooms, a new sensory room for SEN and the provision of a new medical room – £130,000
Roding Primary School, East Ham, London – Creation of new mezzanine level within the main school hall to create two new classbases – £260,000
Chelmer Valley High School – design to contact administration for various projects from £40k to £800k totalling £6million in the last 12 years
St. Michael's Catholic Primary School – Architectural design and delivery of a kitchen extension and refurbishment
Epping Forest School Consortium – managing a group of 12 schools in Epping. Various project sizes and scales from £25k to £250k in the last 10 years
PFE Express – Creation of additional office accommodation and storage on mezzanine within a warehouse facility
138.com, SoHo, London – Design and project management of the refurbishment and fit-out of a prominent building in London's SoHo to create 138.com's first UK casino/betting shop – £700,000
Beaconsfield High School – Design, procurement, funding application and project management of an extension to provide a new reception area, additional office accommodation and a meeting room, whilst also vastly improving safeguarding – £430,000
Chelmer Valley High School – Design, procurement and project management of a dining hall extension – £315,000