Lee Hatwell – Director | Chartered Building Surveyor
---
Lee Hatwell BSc (Hons.) MRICS
Lee Hatwell heads the surveying team within Munday + Cramer, bringing a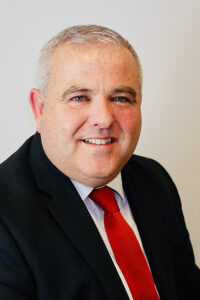 diverse range of experience to the practice. Lee joined in 2007 as a Director and Shareholder, with a successful career spanning over twenty years within the construction and facilities industry. Coming initially from a trade background, Lee retrained as a Building Surveyor and became chartered with the RICS in 2006.
Prior to joining Munday + Cramer Lee spent seven years working for a national property services consultancy, developing Essex County Council's asset management programme. Lee worked directly with key staff within the authority to establish both surveying techniques, data capture and strategic management.
In addition to his surveying and project management roles, upon joining Munday + Cramer Lee, developed our now hugely popular 'strategic asset management' service for our school clients, providing a detailed working document to enable governors to take a snapshot of the strategic maintenance priorities, business managers to manage the annual priorities and site managers to plan/record day-to-day activity. More recently, this service has been further developed to create our property management division. Alongside these services, Lee has also been the driving force behind Munday + Cramer's bespoke database portal which now drives the practice's operations.
Externally, Lee undertakes a number of extra-curricular roles to support the industry. These include acting as a training mentor for the RICS and sitting as a member of Anglia Ruskin University's Employer's Forum. Lee is also the Chair of Governors for Mildmay Infant and Nursery School; offering him a unique insight to the education sector. Recently, Lee has also become a Governor of Moulsham High School.
Within the practice, Lee's core responsibilities include staff development, quality management systems and professional procedures/compliance.
Lee's wide ranging skills and experience ensures a busy workload, with key activities within Munday + Cramer including:
Overseeing key client accounts in education, ecclesiastic and residential sectors
Overseeing multi-disciplinary capital schemes up to £2million
Developing facilities management strategy,
Advising clients on capital and planned maintenance strategies
Bidding strategies and developing capital funding bids for education clients
Building surveys – various building types and conditions. Specific interest in historic buildings and ecclesiastical settings
Fire damage reinstatement
Swimming pool design and maintenance
Swimming pool reinstatement (structural, fabric and plant)
Residential insurance claim support (specialist structural monitoring and reinstatement management)
Housing strategic maintenance management (seconded support to local authority client)
Drainage defects analysis and remedial/maintenance management
Site/soil investigation
Construction technology (practical skills)
Key Projects:
St. Francis of Assisi Church and Friary, Stratford – Reconstruction of chapel walls and roof due to poor structural integrity/unsafe nature, including works to sub-structure and additional bracing. £430,000
Our Lady Immaculate Roman Catholic Church – Provision of a condition survey and 5-year plan
Sacred Heart of Jesus and Mary; St. Augustine's Priory – Stone window surround repairs, sash window repairs and replacement to a priory located in North Wales. £169,000
Our Lady Immaculate, Chelmsford – Remodelling within the Presbytery to form a new parish office including an accessible toilet. £15,000
St. Philip's Priory, Chelmsford – Dry rot investigation and repairs including renewal of joists, drainage repairs, rainwater goods renewal, masonry repairs, treatment of the dry rot and general remedial repairs
St. Philip's Priory, Chelmsford – Chapel redecoration and minor repairs. £3,500
Hutching's Wharf, East London – External redecorations to vibrant residential block. £95,000
Sandon Brook Manor, Chelmsford – Provision of a detailed condition survey and planned maintenance programme to a Victorian manor house
The Village, Writtle – Legal advice for a claim against designer/constructors, and development of a planned maintenance strategy and budgeting for a number of residential blocks
Barrier Point, Silvertown – Major internal redecoration to an extensive residential development in East London. £168,000
Sandon Brook Manor, Chelmsford – External refurbishment of a prestigious Victorian Manor House. £36,000
Gable Hall School – Replacement of windows to two-storey block. £270,000
The King John School, Thundersley – New build provision of a dedicated Sixth Form block for 500 students. £2,000,000
The Tyrrell's School, Chelmsford – Major urgent electrical rewire of the whole school as part of an emergency ACMF bid. Carried out during term-time and incorporating the removal of ACMs where required. £360,000
The King John School, Thundersley – Replacement heating services (new boiler) and associated pipework repairs/replacement as part of a three-year strategic bidding process. As part of the strategic plan, the entire school site was considered in order to reduce stresses throughout the system and build in increased resilience
The King John School, Thundersley – Re-model and refurbishment of an existing youth centre/hall to create a dedicated humanities block – £1,000,000
The King John School, Thundersley  -Provision of a new hall/theatre facility
The King John School, Thundersley – ACMF/CIF bid for the full refurbishment of the kitchen facility. £327,500
Great Leigh's Primary School, Great Leighs – Provision of a new kitchen/servery facility. £90,000
Shaw Primary Academy – ACMF/CIF bid for major re-roofing programme. £330,000
The King John School, Thundersley – School Estate Development Plan
The King John School, Thundersley – Development and implementation of Facilities Management Strategy (part-time secondment)
Greensted Junior School – Extension and refurbishment to school catering kitchen as part of ACMF/CIF bidding
Corringham Primary School – ACMF/CIF bid and works to resolve significant subsidence issues to classblock
Corringham Primary School – ACMF/CIF bid for the provision of a new dedicated Speech and Language Unit
Corringham Primary School – CIF bid to provide two new classrooms
Hassenbrook Academy, Stanford-le-Hope – CIF bid and project delivery of a major kitchen refurbishment
Hassenbrook Academy, Stanford-le-Hope – CIF bid and delivery of the first phase of a full rewire and electrical upgrade – £813,000