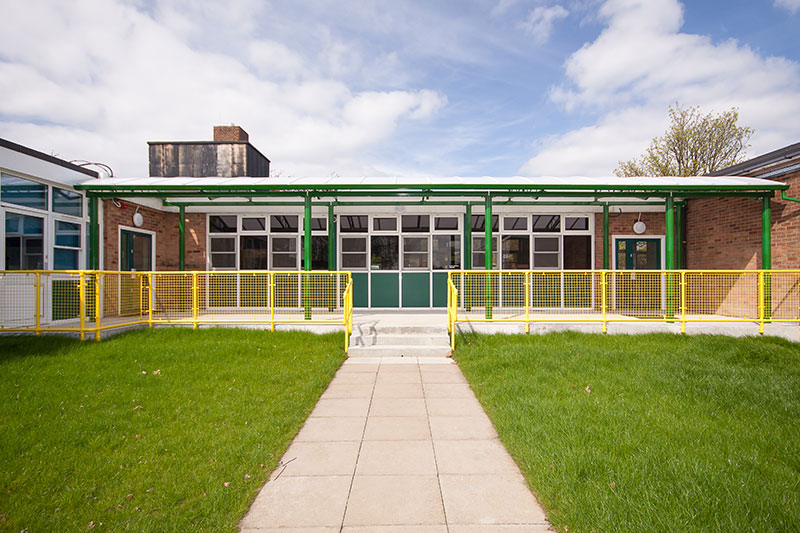 The Benefits of Improved Educational Facilities
---
The benefits of improving your educational facilities are numerous. Whether this is for schools, colleges, universities or any other FE organisations, these benefits cannot be understated. There have been many studies over the years, across several different countries, including studies published by the UK government, supporting what we already know anecdotally. No matter where these studies are carried out, the results are always very similar: the better the facilities, the better it is for the school. What do we mean by this? How is it better? Below are some examples of these aforementioned benefits, followed by information on what you can do to improve your facilities to receive these benefits yourself. 
Improve Results
The main benefit is that students' results improve with better facilities. This is an obvious advantage for subjects such as IT and PE, where having better IT suites or sports equipment and facilities will have a direct improvement on results. However, this is also true for other subjects that don't rely so heavily on the resources available. This includes several aspects that you may not expect to have such a positive impact, such as comfort, aesthetics and places to relax. 
Attendance
Similarly to the above, it has been shown that the better the facilities, the more likely students are to turn up. This is due to it generally being a nicer place to be, but also for health reasons. Improved facilities can mean a physically and mentally healthier environment, so legitimate absence from illness will also decrease. 
Attract Students
Attracting students is a very competitive "market", so anything you can do to positively set yourself apart from competitors gives you a distinct advantage. There are a multitude of ways that improving educational facilities can entice students to enrol and/or parents enrol their children in your organisation. If they turn up for an open day to scope out your facilities, you need to be able to impress them. The bare minimum will not cut it when it comes to people making choices about their, or their children's education. 
Attract Staff and Reduce Staff Turnover
Likewise, teachers and other school staff will be much more likely to apply to work for schools for the same reasons. A better work environment can be an important factor in their choice of school. This will help to reduce resources spent on recruitment and will bring in a higher calibre of staff, as well as reducing the amount of staff turnover as teachers will want to stick around for longer. 
Save Money
There are many ways that improving facilities can help to save money in the long run. This is generally an added benefit of the methods used to achieve the other benefits, although it is a major plus point! Cost savings come through having to spend less on marketing, recruitment, maintenance (through better design and specification) and also through becoming more environmentally friendly, which will bring down energy costs. More on that later! 
How to Improve educational facilities
Safety
For Munday + Cramer, this is one of the most important aspects of educational facilities. Students, staff and visitors should feel safe in this environment. There are many things that can reduce the safety of a building. There are small hazards, such as trip risks with uneven paving slabs, to larger issues such as structural integrity problems with damaged walls, ceilings and floors. 
Addressing these issues will increase the perception of the school, as well as ensuring you are following government regulations and guidelines. 
Security
Going hand in hand with safety is the facility's security.  This is especially important for safeguarding both students and staff. This will include measures such as restricting access to classrooms, offices and equipment to those who are authorised. This could be executed via key cards or keypads, for example, but ensuring the doors can always be opened from the inside. This is, of course, vital for students' safety, but also for staff should an angry parent or anyone else unauthorised turn up. 
Other measures include the appropriate use of CCTV throughout the school, in corridors, externally, in lifts and other areas that should be monitored. This can help to prevent unauthorised entry, prevent bullying and illegal behaviour, monitor storage and parking areas and aid with investigating incidents. 
Measures such as these will help students feel more secure, which will help to increase attendance and improve behaviour. They will also assist with recruitment and reducing staff turnover as they will feel more protected as well. 
Classroom Size
Studies have shown that overcrowded classrooms can lead to decreased engagement and an increase in aggression. Having the space to facilitate different teaching methods, team work projects and more, can all lead to better engagement and therefore better learning and eventually better results. Having space for students to work efficiently is intrinsically linked to development and achievement. 
Sports Facilities
Sports facilities are a great way to attract new students. From having a gym, sports fields/courts, MUGAs or even a swimming pool; there's plenty of extra facilities you can add to your estate to make it more desirable. 
Specialist Facilities
Further education facilities can make use of more specialist features. This may be through having the space and equipment to provide the recently developed T-Levels, such as for onsite construction. This could also be for delivering other subjects, such as catering. If a student sees a professional-standard restaurant kitchen on an open day, they are much more likely to apply to study the course with you than a competitor with worse facilities.   
Air Quality
The effect of air quality in educational facilities (and in the workplace more generally) is a highly researched area. Cleaner air quality can lead to better attendance and therefore a better standard of learning. Viruses, bad bacteria and allergens can easily spread through a school with poor ventilation. These establishments may also experience issues with other indoor pollutants such as paint, adhesive and cleaning product fumes. These hazards can have a negative impact on students and staff, especially those with respiratory issues. This is as much a safety precaution as it is a quality-of-life improvement. 
Temperature Control
The optimal temperature for a learning environment is 20°C – 23°C (68°F – 74°F). The ability to effectively heat or cool classrooms is vital to ensuring comfortable and productive lessons. Reports have shown that temperatures outside of this range reduces concentration levels and can lead to an increase of over 40% more mistakes in some circumstances. Teachers having control for individual classroom temperatures is ideal, but if a few rooms are close together and receive the same amount of sun, a shared temperature control device may suffice. 
Also, linking back to the air quality, a room with poor ventilation can easily become hotter with a class full of people in there for hours throughout the day. This can also lead to an increase in carbon dioxide which is one of the biggest contributing factors towards students' reduced concentration and at high levels can become dangerous. 
Lighting
Lighting can have a big impact on the classroom. Using the wrong kind of lighting can increase the risk of headaches and eyestrain, so great care should be taken when choosing lighting solutions. Whilst artificial lighting is important to have and even more important to get right, studies have shown that natural light helps students progress over 20% faster, increasing morale and decreasing off-task behaviour. Due to this, classrooms should be designed to receive as much natural light as possible to increase this positive impact. 
Acoustics
Of course, with too much noise, it is tough for anyone to concentrate. Making rooms more soundproofed will increase student and staff satisfaction and reduce stress. Again, this can help to create a more comfortable and engaging classroom experience, leading to better overall results. This, along with appropriate lighting, can bring relief to students who experience overstimulation due to neurodivergence. 
Reduce Energy Usage
Through upgrading equipment to improve air quality, lighting, heating and infrastructure, you can opt for more energy efficient equipment, such as replacing old boilers and using LED lightbulbs. This will help to achieve a better EPC rating, which means your building is more environmentally friendly and energy bills will be reduced. Being more environmentally conscious is certainly a good thing in this day and age in any case, but even more so if you can use it to promote your educational facilities! 
Inclusivity
It is important to note that educational facilities should be fit for use by everyone. This means including wheelchair access in your plans; appropriate doorway sizes, ramps, lifts, etc. Acoustics should be appropriate for the hard of hearing and those with special requirements. Lighting will need to be considered for some disabilities. Signage should include braille for the visually impaired. There are many things that should be taken into account for inclusivity reasons that will help to attract more students, not to mention inclusivity itself being a big benefit! 
Contact
There are many rules and regulations set out in legislations by the government to help give guidance for good design, but that is the minimum standard. However, going above and beyond this baseline is when your educational facilities will thrive. 
It's all well and good talking about all the ways that educational facilities can be improved, but where is all the money coming from to pay for these upgrades? Well, we can help with that. Munday + Cramer have over 30 years' experience securing millions in government funding for schools, colleges and universities across the UK. We offer a wide variety of services, from aiding with applications for funding to architectural design and facilities management. 
For more information on how the team here at Munday + Cramer can help in this process, or if you would like to find out more about our building surveying services, operating in Essex, London, Kent, Norfolk, Suffolk and across the rest of the UK then get in touch! Contact Munday + Cramer today on 01245 326 200.
 
---
---