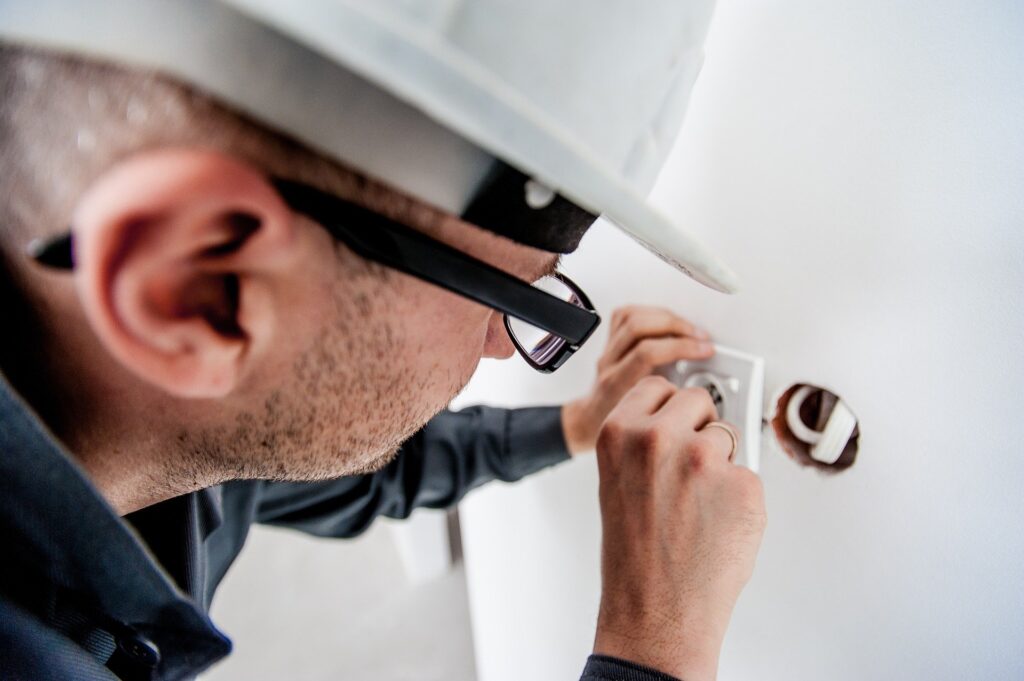 How to Plan Hard Facilities Management for Different Assets 
---
In a previous post we talked about the benefits of taking a proactive approach to hard facilities management over a reactive approach. Today, we will be diving deeper into which types of preventative maintenance you should consider for a range of different assets, as well as mentioning a few legislations that will affect what approach you take for compliance. 
As a quick refresher, there are two main types of preventative maintenance used for hard facilities management; Time-based and failure-finding. Time-based is when assets are maintained according to a specific schedule, whereas failure-finding is when a site is inspected, to find faults that could lead to equipment breaking. 
With that said, here are some examples, which could help you to create your maintenance schedule.
---
Gas, plumbing, and heating
For most structures, without working facilities in this category, the building is not usable. As problems with gas appliances, flues and supply can be potentially dangerous, gas safety has to be carried out every 12 months. This is a legislative requirement via HSE's Gas Safety Regulations. 
One thing that can sometimes get overlooked by facilities managers is the drainage. It can be easy to take it for granted, as it is out of sight. This should cover blockages on external drainpipes, as well as underground blockages that are within the property's boundaries. 
Drainage will generally be covered via failure-finding maintenance as there isn't a set time frame where blockages are likely to happen, it is just an ad-hoc basis. However, it is good practice to inspect underground drainage once a year. This is to look for any blockages, rusting or compromises to the system, which could affect the efficiency of the drainage or even damage the surrounding land. 
---
HVAC systems
Most of the time, HVAC systems only need to be checked once a year, according to guidance by manufacturers. However, it is also worth checking between yearly checks with failure-finding maintenance, just to ensure efficiency and spot any major issues. 
HVAC building elements, such as air conditioning units, are one of the contributing factors for a building's energy efficiency. These, along with assets in other sections, need to follow government guidance on efficiency, or else this could lead to a major issue; a failing grade on an EPC. Properties should have an Energy Performance Certificate (EPC) once every 10 years. If a property doesn't have a valid EPC rating of 'E' or above it cannot legally be let.  
Prior to April 2020 an EPC wasn't required if there was no change in tenancy past the expiry date. However, new rules dictate that buildings must meet minimum energy efficiency standards. Some types of buildings, such as places of worship, smaller buildings and some industrial sites may be exempt. 
HVAC systems and other appliances that contain F gas refrigerants are under strict rules when it comes to testing for leaks. This is due to HFCs being a major contributor towards global warming. These F gas leak checks must be carried out at different intervals of time depending on two factors; how much of an F gas is in the equipment and the global warming potential of the F gas that is used. 
---
Lighting, electrical, and mechanical
The main method that is used for assets in this section is time-based maintenance. This is due to legislation that requires an Electrical Installation Condition Report (EICR) to be caried out every 5 years. This report covers the safety and condition of lighting, sockets, switches, consumer units and more. 
Assets here are also major contributory factors in relation to fire safety. Maintenance for these assets is important for occupants' safety, but again, this is a major contributor towards getting a valid EPC rating too. Improving efficiency here can also bring down costs on electricity usage, so it's not just about ticking boxes and compliance with legislations. You can save money at the same time! 
---
Fire safety systems
According to the Regulatory Reform Order 2005, which pertains to fire safety, fire alarms need to be tested weekly to ensure they are working. On top of this, British standards suggest that more scrutinous inspections are carried out once every 6 months. This will reveal if other parts are working, such as the backup energy sources. 
These regulations also state a set of rules for fire risk assessments. Buildings require a new fire risk assessment every 5 years, with annual updates in-between. A new assessment must also be carried out should the building have an extension, a change in layout or if the building's use has a significant change, either in use or in the occupancy. 
Routine checks will also reveal any issues with sprinklers and fire extinguishers. Again, a mixture of fault-finding and time-based maintenance is essential to ensuring safety. 
---
Building maintenance work
Routinely checking parts of a building's structure is important to stop hazards, such as leaks, flooding or collapse. These can be incredibly costly if they happen and more importantly, can make the building unsafe for the occupants. Roofing should be checked twice a year, as seasonal changes in weather can affect the structural integrity. Whilst checking this, other areas can be observed, such as any damage to vents or guttering. 
---
How we can help
Munday + Cramer have a wealth of experience in hard facilities management. It can be challenging to create a schedule to stay on top of legislations and then the proactive maintenance on top. This can be especially tough on larger buildings where you could have to co-ordinate various suppliers and making sure staff's time is organised to work alongside the maintenance schedule. However, it is necessary to save you time and money in the long run, as well as ensuring your buildings are running safely and efficiently. This is where Munday + Cramer can help. 
We have our own, bespoke compliance tool, which is specially designed to help create a maintenance plan and hit legislative deadlines. Using our vast knowledge on legislations and guidelines, we will work with you to input the data required to stay on track of planned preventative maintenance (PPM) and compliance requirements.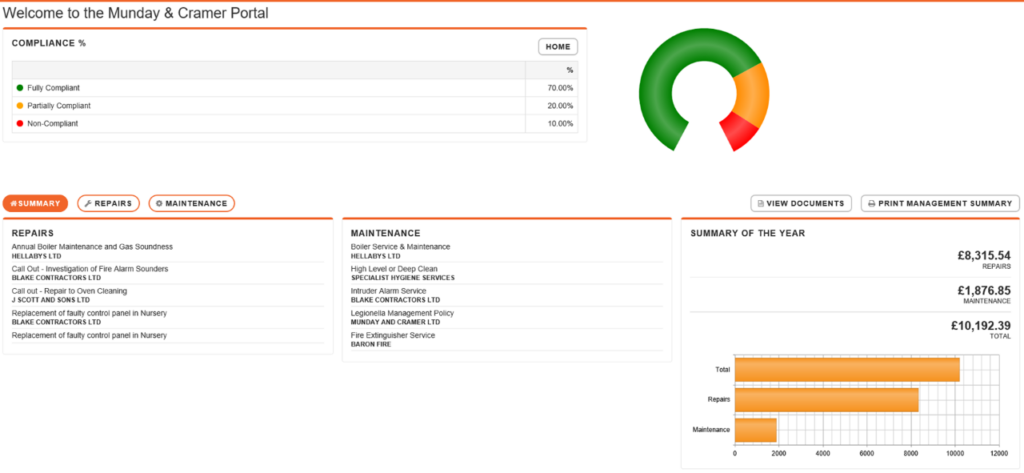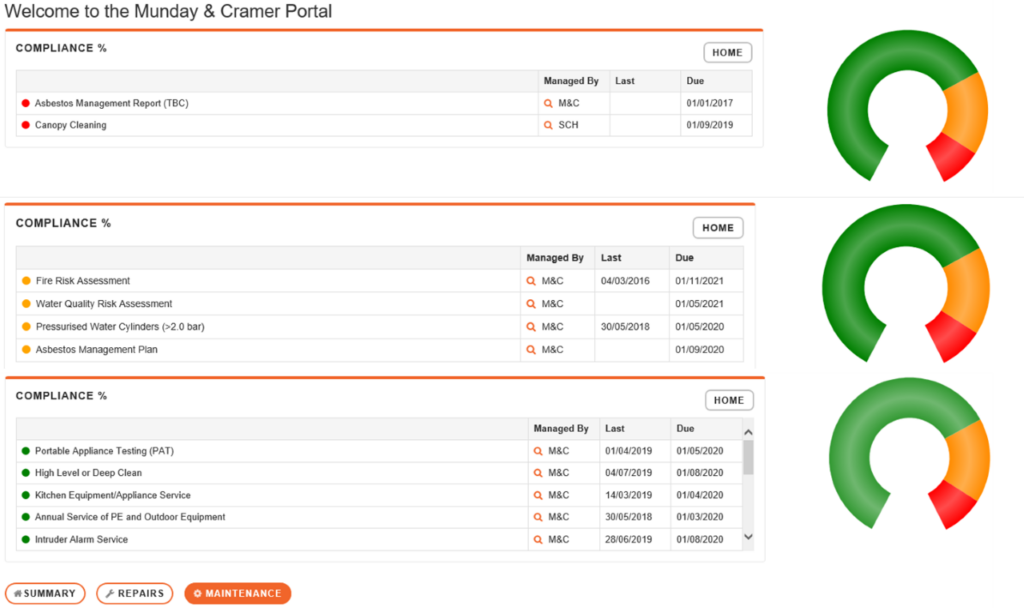 We also work with our clients to understand their properties, carrying out condition surveys and create asset management plans. These will help to create maintenance plans which, along with our compliance tool, will allow them to stay on top of building maintenance, saving time and money in the process. Alternatively, we can create the plan for our clients, help to organise work to get assets up to standard and manage audit trails on their behalf, via our facilities management offering. 
---
Contact Us
Proactive, planned hard facilities management is the best approach to help you stay on top of compliance. For information on how Munday + Cramer can help in this process, or if you'd like to find out more about our building surveying services, operating in Essex, London, Kent, Norfolk and Suffolk, then get in touch! Contact Munday + Cramer today on 01245 326 200. 
---