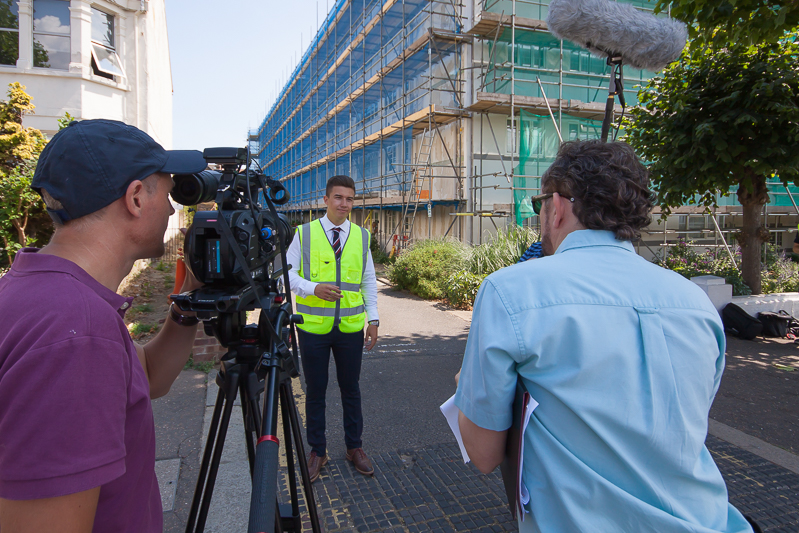 M+C Degree Apprentice becomes media star!
---
M+C, Essex County Council's Enterprise Advisory Service, RICS, and Anglia Ruskin University's employability service have joined forces to produce a short film this week. The film's purpose is to promote links between businesses and students from KS4 onwards, and features the practice's Degree Apprentice, Michael Smith.
M+C's involvement
M+C have a long established history with nurturing local talent, and has strong links with both Anglia Ruskin University and William-De-Ferrers School. The practice not only offers support with careers days, but also provides work experience placements. Because of this level of commitment, the film makers approached the practice to take part in their project. Michael Smith is M+C's first degree apprentice, and is part of the first national group of apprentices completing degrees in the built environment. He spoke on camera about his experiences making the transition from education to the workplace. Michael first came to M+C's attention as a work experience student. He impressed the M+C directors with his commitment and focus, and they duly offered him a degree apprenticeship.
Filming day
Filming took place at Argyll House, a large Art Deco block of flats situated on the seafront in Westcliff-on-Sea. M+C are currently working on a project to complete external repairs and rendering. Not only is this a beautiful and interesting building, but it also presents unique challenges. Michael is working on this project as it provides him with a good cross section of learning opportunities to take forward onto his degree course. Although initially nervous, Michael completed his piece to camera and a star was born!
M+C Director, Lee Hatwell also spoke on camera about how strong links with schools and colleges benefit businesses. M+C have gone from strength to strength recently, in no small part due to the injection of young fresh talent from the local area. The practice is supporting Georgia Dear through her degree which commences this September. Furthermore Sam Guttridge has just completed the first year of his architectural degree course. Lee says "M+C are proud of our pedigree with nurturing local young talent. We have been fortunate to attract some excellent candidates, and our links with local schools continue to bear fruit. As the practice grows, we look forward to capitalising on this, and hope to offer many more talented youngsters a route to a successful career"
If your school would like to discuss opportunities to forge links with M+C, please contact us on 01245 326200.
---